Meet the artist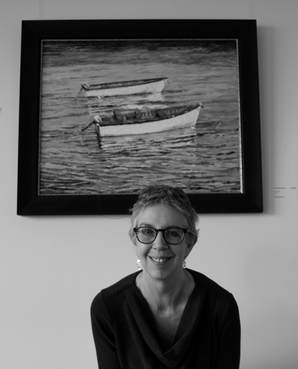 ARTIST STATEMENT

The play of light on form that turns the common into the extraordinary is what inspires my work. Painting knives and buttery oil paints are used to create broad strokes of colour that make the viewer want to lean in closer to see or to reach out and touch the texture of the surface, which is almost sculptural.

Water always has its appeal and I enjoy the challenge of creating that shifting, reflective surface, especially in an impressionist technique. The clean lines of traditionally built wooden boats, wharves and rocks contrasting against the fluid background capture my imagination and fuel my knowledge with colour and movement.

I let impressionism and abstraction lead when necessary and at other times, I pull in with tight, representational detail. I grant myself permission to experiment, to be creative and to be myself.
---
---
BIOGRAPHY
Jeanette Jobson is a visual artist who lives and works in Flatrock, Newfoundland and Labrador, Canada. She was born in Nova Scotia, grew up in Newfoundland, and lived in Ireland and the United Kingdom for fourteen years, before returning to the province in 1988. She studied fine art under Tom Greenshields, R.A., in the UK, with an emphasis on classical drawing techniques.
She has continued to expand her technique in painting through a variety of mediums, with her work evolving over time into its current impressionist style and exclusive use of a palette knife.
Jeanette has devoted time at the board and mentor levels to the local and international arts communities. She also teaches workshops in classical techniques of drawing and painting for beginners and advanced artists.
​
Her work is in the collection of the Government of Newfoundland and Labrador and has been exhibited in The Rooms as well as being in private collections in Canada, USA, England, Australia and New Zealand.
Jeanette is represented by Peter Lewis Gallery in St. John's. She is the owner and gallery director of
The Baccalieu Gallery
, Heart's Content, NL.
copyright (c) Jeanette Jobson 2017
​
---
find my studio
42 Three Island Pond Road, Flatrock, Newfoundland & Labrador, Canada A1K 1C8
---
Let's stay in touch
Once a month I send an email to subscribers with information on paintings, exhibitions, subscriber discounts and previews as well as insights into studio work and tips. You'll also get to peek into life on the farm as well.

If you decide that Studio News is not for you, I'll be sorry to see you go, but you can unsubscribe in a click.